Nonprofit Directory
Wisconsin Parkinson Association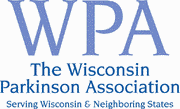 Year Founded: 1984
945 N. 12th St., Suite 4602
Milwaukee, WI, 53233
(414) 219-7060
Mission Statement
The Mission of the Wisconsin Parkinson Association is to expand medical professional and public awareness and understanding about Parkinson disease that will lead to maximum support, the best individual health care, assistance for caregivers and families, and increased funding for research.
Primary focus of your nonprofit organization: Health
Other focuses of your nonprofit organization
Disabilities
Senior Citizens
Number of employees at this location: 8
Key Donors: Aurora Health Care Foundation Teva Neuroscience Greater Milwaukee Foundation Ralph Huiras Foundation Community Health Charities of Wisconsin Helen Bader Foundation
Executive Leadership
Jay Blankenship, Executive Director
Michael Hillman, President
Board of Directors
Keith Brewer Emeritus
Michael Hillman President
Ed Vojtik Treasurer
Cheryl Prescott Director
Barbara Abrams, MSW Director
Ruth Busalacchi, Synergy Home Care Director
Toni Ihler, Colunbia St. Mary's Medical Center Director
Alan Katz, Performance Marketing Director
Elliot Lubar, MSW, Retired Director
Deborah Unger, Aurora Health Care Director
Jerry Zimmerman, JD, Zimmerman & Steber Legal Group, SC Secretary
Jonette Arms, Milwaukee County Department on Aging Director
Denis Ashauer, Home Helpers/Direct Link Director
Robert Norman, PHR, Eppstein Uhen Architects Director
Brittany Rosales, MA, Children's Hospital of Wisconsin Director
Betty Sancier Director
Charlotte Bernard, JD, Brady Corp. Director
Pamela Schultz, PhD. Director
Is your organization actively seeking board members for the 2012-2013 term?: Yes
What roles are you looking to fill?: Treasurer
Board Member
Ways the business community can help your nonprofit
Advertising and Promotion
Board Members
Entertainment
Marketing Support or Advice
Medical Supplies
Printing Services
Office Supplies
PR Assistance
Transportation Services
Volunteers
Other ways the business community can help if not listed above: Business Partners, Sponsor or partner with events.
Key Fundraising Events
International Celebration of Hope
August 1, 2013
Time:5:30 PM
Location: Wisconsin Country Club
Tribute to Dr. Paul Nausieda. Formal Gala with International theme. Gourmet food, music, presentation by Dr. Lieberman from the Muhammad Ali Parkinson Center.
LaVerne Brewer Memorial Golf Outing
May 11, 2013
Time: 11:00 AM
Location: Ironwood Golf Course, Sussex, WI
Scramble golf outing and shotgun start. Lunch, dinner, and silent auction.
WPA Open Against Parkinson Disease
June 4, 2013
Time:11:00 am
Location:The Legend at Brandy Brook CC, Wales, WI
Tournament style golf outing with prizes, lunch, dinner, and auction. Celebrity golfers.
The BizTimes Nonprofit Directory is a continual resource for executives in southeastern Wisconsin. BizTimes Media encourages organizations to update their listings throughout the year by contacting BizTimes at directories@biztimes.com