Mount Mary College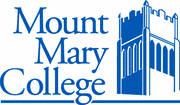 Get Smarter Directory
2900 N. Menomonee River Pkwy.
Milwaukee, WI, 53222
Key Contact:
David Wegener
(414) 258-4810
Website: www.mtmary.edu
Name of President: Dr. Karen Friedlen
Name of CEO: Dr. Eileen Schwalbach
Reyes Gonzalez
Year Founded: 1913
Primary business category: Higher Education Institution
Training/education/consulting offered: Certification
Graduate Programs
MBA
Undergraduate Programs
General Business Description: Undergraduate & graduate programs including accelerated MBA. Corporate Partner Program members receive employee tuition incentives.
Top Industries served: Education
Education/training/consuling/staffing provided: Employee Development
Leadership Development
Management
Marketing
Educational/training capabilities: Classroom
Online/Internet Based Learning
Blended Education (combination of any of the above)
Total number of clients/students served annually: 1,000 to 5000
Courses or fields of study are suitable for online study: Professional doctorate of art therapy.